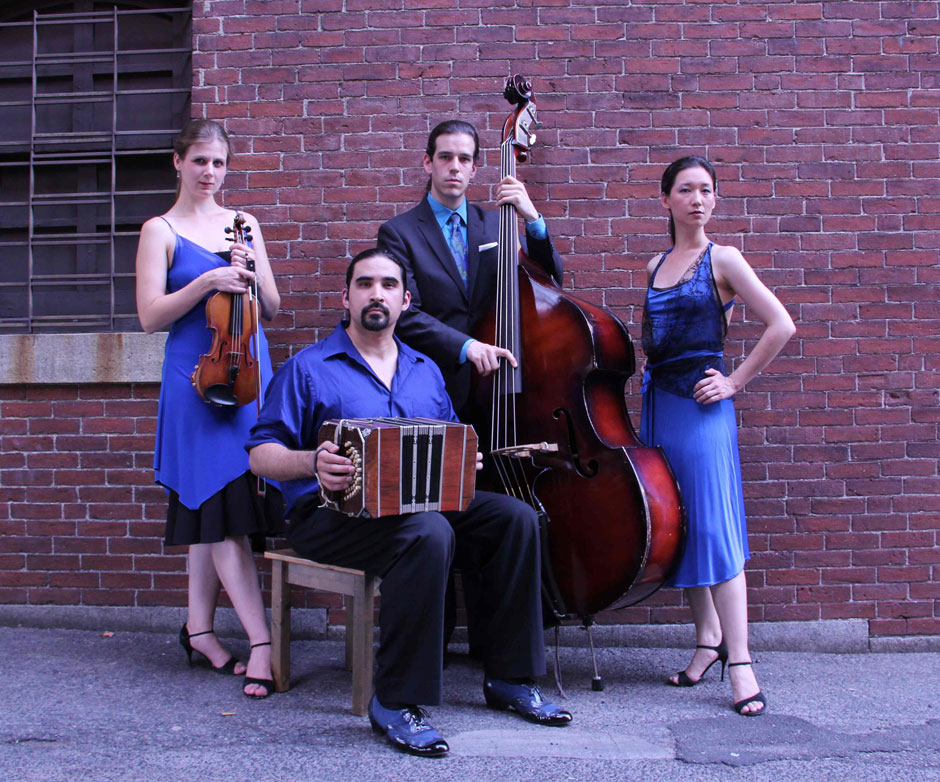 Boston's Orquesta Sin Trabajo plays tango music for dancing — and they should know what makes good dance music, since they're dancers (and tango DJs) themselves.  The group plays fresh arrangements of Golden Age favorites, infused with a unique blend of musical expression, adventure, and humor.  So rich and powerful is their sound that listeners report difficulty believing the group is a small quartet and not actually a full orquesta típica "with the extra players hidden somewhere backstage".  Orquesta Sin Trabajo has made highly-acclaimed appearances around the country, including the Yale Tango Festival, the MIT 10-Year Anniversary Festival, the West Coast Tango Marathon, the Boston Tango Festival, San Fransisco's CELLspace, the Amherst College Milongas, Boston's Milonga Nueva, and more.  Their debut album, ¡Viva Tango! was released in spring 2013.  An evening with OST will take you on a journey through sweeping tangos, flowing valses, and fiery milongas…and always a few surprises too!
Orquesta Sin Trabajo is:
Mari Black, violin/arranger
is an internationally-acclaimed violinist and avid tango dancer, dedicated to bridging the gap between the musician, dancer, and storyteller.  On the violin, she is a champion Celtic and Canadian fiddler, international prize-winning classical soloist, enthusiastic jazz player, and accomplished composer and teacher.  Based on her belief that "we can only dance what we can hear," Mari developed her unique "Not Another Musicality" workshops, innovative musical exploration classes which help dancers improve their listening skills and find a deeper understanding of the rich layers and moods of tango music.  She has taught workshops at the Yale Tango Festival, San Fransisco's famed CELLspace, the Amherst College Tango Club, Milonga Paradiso, Blue Milonga, and other Boston-area events, where her classes received rave reviews and left dozens of inspired dancers in their wake.  In addition to playing with OST, Mari appeared as the violin soloist with the Monster Orchestra at the last Tango de los Muertos, and led an All-Star Orchestra at the 2010 Yale Tango Festival.  Mari recently completed her doctorate at Columbia University where she was the Geffen fellow in interdisciplinary arts and creativity, and is now busy performing and teaching around the country.  She just released her debut solo fiddle album, "Flight."  Follow Mari's musical adventures at www.mariblack.com.
Carlos Moreno, bandoneon/vocals
is a nationally-recognized tango dancer, teacher, and event organizer who has helped expand the dance and music culture of Argentine tango in the US. He has presented numerous workshops and lectures to dancers, with topics including dance technique, tango history, innovative workshops on musicality, and the biomechanics of tango movement (informed by his PhD in biomechanics of animal locomotion). Carlos also DJs regularly at local milongas (social tango dances), and for five years he co-organized one of the most influential tango festivals in the US.
A lifelong musician, Carlos recently shifted his focus from dancing tango to playing tango. He took on the challenge of learning the bandoneon, the signature instrument of tango, and now leads a monthly tango jam in Boston, bringing together local musicians to improvise and play live tango music for dancers. In addition to his regular appearances with Orquesta Sin Trabajo, Carlos can be seen performing as a guest with other Boston groups as bandoneonista, vocalist, and even guitarist. Visit his website: www.morenotango.com.
Tilly Kimm, piano/arranger
is a tango junkie, easily recognized on dance floors around the country by her notorious bunny slipper footwear and playful dance style (which apparently inspired the composition of two tango-related songs!).  Tilly has a multifaceted presence in the tango world, sharing her love of tango as a teacher, performer, DJ, and pianist.  In addition to touring with OST, she has taught and performed tango across the USA and internationally.  Outside her tango activities, Tilly leads a multifaceted life of dance, music, and science. A former ballet dancer and musical theater performer, her musical roots go back to her days as a chorister in the Washington National Cathedral Choir of Men and Girls, singing at regular services and notable occasions such as the memorial service in 2001 for the victims of 9/11.  Tilly studied composition with John Harbison while learning math as an undergraduate at MIT.  There she was also a member of MIT's pistol team and is undoubtedly the best shot in Orquesta Sin Trabajo.  Also a projectionist, she can thread a 35mm projector in under two minutes, and additionally holds a Ph.D. in Neuroscience. Visit adamandtilly.com for more on her tango escapades.
Rob Flax, bass
Although tango dancers know him primarily as a bass player, Rob is an award-winning multi-instrumentalist, composer, and educator from Evanston, IL currently based in Boston, MA. As a performer, he has performed locally, nationally, and internationally, including opening for such acts as B.B. King and Tower of Power. His violin can be heard in James Franco's film adaptation of William Faulkner's classic, As I Lay Dying. As a composer and improviser, Rob frequently collaborates with modern dancers and choreographers, including Alison Chase (of Pilobolus fame). Classically trained on the violin since age 8, Rob first achieved national recognition in 2009 at the American String Teachers Association (ASTA) conference, where he received the Alternative Styles Award for Improvisation. An ASTA member, he is also a devoted educator, with an interest in interdisciplinary teaching. Since 2010, he has taught group and private lessons in various musical styles, violin technique, improvisation, mathematics (he has a B.S. in mathematics from Denison University), and chess (he was a nationally ranked chess champion in high school). Rob is a recent graduate of the New England Conservatory, where he received a master's degree in Contemporary Improvisation. Visit www.robflax.com for information, news, sounds, video, and more.